Sunlite Top Tube Bento
Large single compartment
Great for quick access while on bike
Velcro mounting straps
Bag volume: 50 c.i.
Sunlite Handlebar Roll Bag
One large main compartment
Mounts to handlebar with hook and loop straps
Bag volume: 150 c.i.
Sunlite Bar Tender II Handlebar Bag
Constructed from water resistant 600 denier polyester
Large main compartment
Mounts to handlebar with Velcro straps
Large reflective trim
Serfas Cell Phone Top Tube Bag
Replaceable Cover (SKU: LT-STM4RT)
Large Secondary Pocket
Three Strap Design
Touch Screen Capable Replacement Cover
Cell Phone Cover Will fit Up To iPhone 6+ Sized Devices
Specialized Mini Wedgie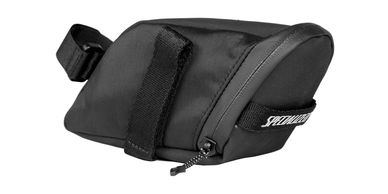 Nylon upper is coated for water-resistance, ensuring that your gear remains dry when the weather turns ugly.
Synthetic leather lower with debossed pattern perfectly blends form with function.
Water-resistant zipper repels water and road debris coming off the rear wheel.
Internal neoprene sleeve safely and securely holds tools in order to protect tubes from unnecessary abrasion and knicks.
Narrow profile tucks up into seat to reduce the risk of your thighs rubbing or chafing.
Volume: 48.5 cu. in.
Specialized Seat Pack- M,L and XL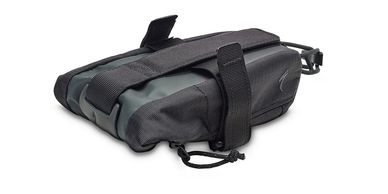 Secure attachment to the saddle with easily adjustable hook-and-loop and silicone straps to go around the seatpost.
Roll-up closure for ultimate flexibility of what you can carry and excellent water-resistance.
Expansion zippers for when you need to fit in more than you ever imagined.
Reflective patch on back that also allows for a Stix light to be clipped on securely with the fabric clip.
TOPEAK Aero Wedge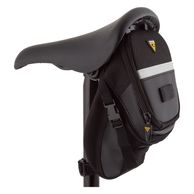 Constructed from 1200D polyester
3M reflective strip
One main compartment with mesh inner pockets (large and medium models are expandable)
Mounts to seat with two buckled seat straps and one velcro seatpost strap
Sunlite Utili-T Rackbag II Expandable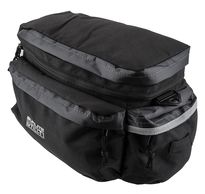 Constructed from water resistant 600D polyester
Large reflective trim
Expandable padded main compartment with removable dividers
Rear accessory compartment and two side compartmentscompartments
Includes removable shoulder strap
Mounts to rack with two Velcro straps
AXIOM Cartier Trunk Bag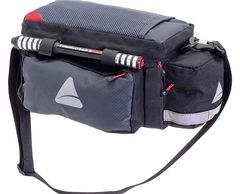 A fully-featured trunk bag with multiple organizer pockets and dividers, top-load bungee and mini pump mount
Blend of 850D and 600D polyester; red interior liner improves internal visibility
Lightweight, universal Velcro attachment system attaches to top of rack
Insulated design helps to protect cargo from heat/cold and minimizes vibrations
Zippered side and rear pockets
Top and front mesh pockets
TOPEAK MTX Trunk Bag EX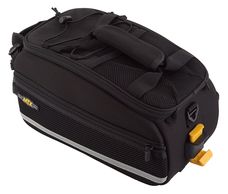 Constructed from 600D nylon and EVA foam
3M reflective accents from improved visibility
Divided main compartment, two mesh side pockets and integrated water bottle holder with cinch straps and drawstring
Includes carry handle and removable shoulder strap
MTX QuickTrack rear rack compatible
TOPEAK MTX Trunk Bag DX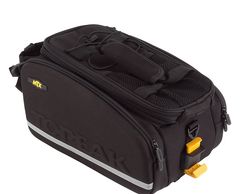 Features a divided main compartment, 2 side pockets, and a rear water bottle holder
600 denier polyester construction combines molded panels and flexible fabric for rigidity and water repellance
Includes shoulder strap and carrying handles
Compatible with all MTX racks
Sunlite Utili-T 1 Pannier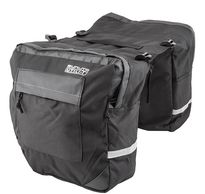 Constructed from water resistant 600D polyester
Large reflective trim
Four zippered compartments
Includes carrying handle
Mounts to rack with coated alloy hooks and compression straps
Racks
Sunlite Gold Tec Lite Rack
Tubular 6061-T6 alloy construction
Rear carrier for bicycles
Adjustable for 26" and 700c wheels
Max load of 45 lbs
Sunlite Gold Tec Disc Rack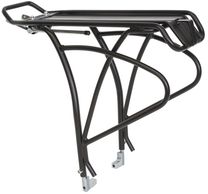 Tubular 6061-T6 alloy construction
Disc brake compatible for mountain, road, cross and hybrid bicycles
Adjustable for 26", 29" and 700c wheels
Max load of 50 lbs
TOPEAK Explorer MTX
General purpose, 3-strut alloy rear carrier with integrated fender top
6061 T6 aluminum construction with stainless steel hard-ware, 4-point adjustable extenders
Dual hook positions for bungee cord
66lb weight limit
Weight: 650 g
SUNLITE Tow QR Beam Seatpost Carrier
Tubular 6061-T6 alloy
Quick release design
Max load of 25 lbs
Fits 25mm to 32mm seatposts
TOPEAK BEAM MTX E-TYPE
MTB rack with MTX Track System
T6 aluminum construction
Hinged seat post clamp w/aluminum quick release lever
Carries 20lb
One size fits all seat posts
TOPEAK BEAM MTX A-TYPE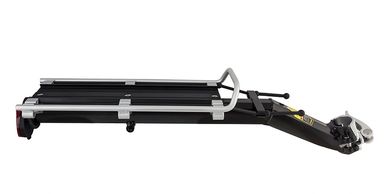 MTB rack with MTX Track System
T6 aluminum construction
Hinged seat post clamp w/aluminum quick release lever
Carries 20lb
One size fits all seat posts
Baskets
SUNLITE Standard Mesh Bottom Lift-Off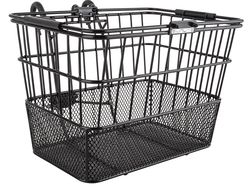 Powder coated steel construction
Mesh bottom
Mounts to handlebar with a lift-off bracket
SUNLITE Standard Oval Mesh Bottom Lift-Off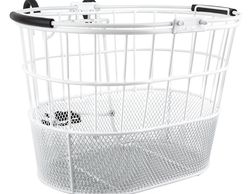 Powder coated steel construction
Classic oval styling with mesh bottom
Lift off style bracket
SUNLITE Mesh Lift-Off Front Basket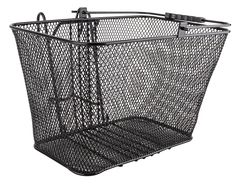 Powder coated steel construction
Rubber carrying handle
Mounts to handlebar with a lift-off bracket
SUNLITE Large Delivery Basket
Powder coated or UCP steel construction
Mounts to handlebar and fork with fixed hardware
TOPEAK Handlebar Basket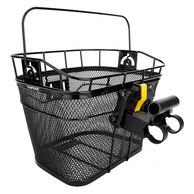 A sturdy handlebar-mounted metal basket for shopping trips, or quick jaunts around town.
Wire mesh design with intergrated carry handle for ease of use
QuickClick handlebar mounting system fits 25.4 & 31.8 bars with included shim
Easily installs and removes in seconds
Maximum load: 11lbs
TOPEAK 3e Handlebar Basket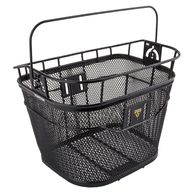 High quality welded wire baskets for school, shopping or errands
Uses updated QuickClick handlebar mount for fast attachment/removal compatible with eBikes
Carry handle for easy use off the bike
Wald #157 Giant Delivery Basket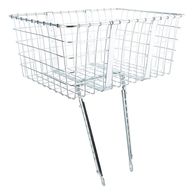 Powder coated or UCP steel construction
Stout legs, cargo bands and heavy duty handlebar clamps
Mounts to handlebar and fork/axle with fixed hardware
TOPEAK Rack Top Basket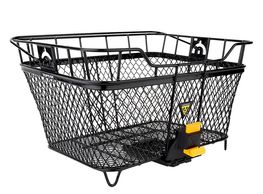 Welded metal construction
Tight wire mesh
QuickTrack rear rack mounting system
Compatible with any Topeak MTX rear rack
WALD PRODUCTS Rear Twin Carrier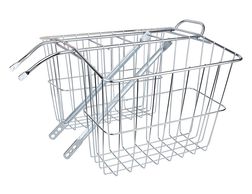 Rear rack and twin basket combination
Mounts to rear of bicycle with fixed hardware
Steel
SUNLITE Willow Classic Basket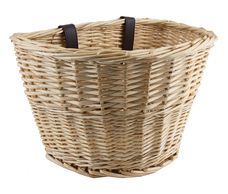 Hand woven natural willow
Mounts to handlebar with two leather straps
SUNLITE Classic Flower Basket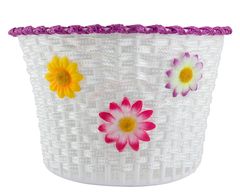 Top quality synthetic weave material
Extremely weather resistant
Removable flowers
Mounts to handlebar with two plastic straps
KIDZAMO Woven Basket
Top quality synthetic weave material
Extremely weather resistant
Universal handlebar strap mounts